Who are Swedish Truck Parts?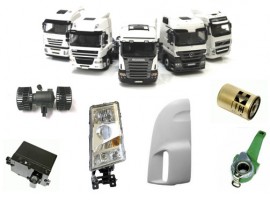 We are a specialist retailer of Quality New & Used Parts for Commercial Vehicles specialising in parts for Scania/Volvo/Daf/Renault/MAN/Iveco/Mercedes Trucks and Buses.
What about the Quality?
Our parts are purchased directly from the major Original Equipment suppliers and manufacturers.
Our customers can be assured that not only are they buying parts as competitively as possible, but are also buying the best quality available. We have been supplying Scania and Volvo parts for over 25 years and DO NOT compromise price over quality.
All our catalogue products are brand new and NOT reconditioned
(unless otherwise stated).
All products carry a full 12 months manufacturer's warranty.
So Why use Swedish Truck Parts ?
Our highly trained staff will do everything possible to ensure that you get the correct part when you need it
at the best price maximizing profitability and vehicle downtime