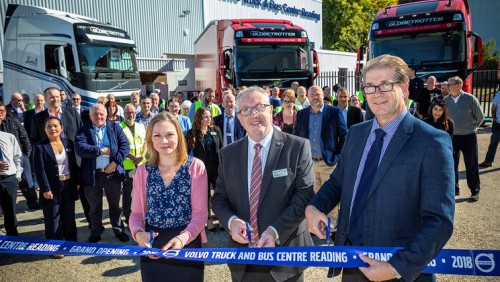 Volvo Trucks has completed a major investment in its aftersales network, with the grand opening of Volvo Truck and Bus Centre's new Reading dealerpoint in Worton Grange, Reading. Representing a multi-million pound investment, the state-of-the-art facility will be run as a 24/7 operation, providing customers with around-the-clock support and guidance whenever they need it.
Situated in a prime location between the town and the motorway, Volvo Truck and Bus Centre's new Reading operation is located just minutes from the busy M4 corridor which should prove popular for transport operators going in and out of London. The new dealerpoint also gives Volvo Truck and Bus Centre London coverage of a key area of the South East where it will be able to offer a full range of servicing and maintenance for trucks, buses and coaches.
Speaking at the official opening day event, which included a ride and drive element for Volvo Truck and Bus customers, Peter Groome, Managing Director at Volvo Truck and Bus Centre London said, "We are delighted to open this new facility, which is in a very important location for us. We now have major facilities close to the three major trunk roads into London – the M40, M1 and now the M4 – which is something that our customers wanted. We are delighted with the efforts that the team here in Reading has gone to. They have well and truly risen to the challenge and we look forward to many successful years in Reading."
The extensive Volvo Truck and Bus Centre Reading site houses 14 large fully-equipped bays as well as a fully-equipped training centre and parts outlet. The training centre will be used on a full-time basis for technicians throughout the network who need training on anything from health and safety to advanced and future powertrain technologies. The parts desk will be open to all customers, with deliveries twice a day.
Peter Groome officially opened the facility with Ian Wrench, Retail Development Director at Volvo Trucks UK and Chrissy Hollister Head of HR and Competence Development (London) at Volvo Trucks UK, who thanked the customers who attended the open day.
Many of the customers were also given the opportunity to get behind the wheel of one of two Volvo FH trucks that were in attendance, as the flagship Volvo truck celebrates its 25th year in production.
12 Nov 2018