Iveco's New Stralis NP is making its UK show debut at Freight in the City, demonstrating the unique natural gas-powered truck's suitability for both long-distance, low-emissions logistics and high-volume urban and inter-urban distribution. Iveco says New Stralis NP provides operators with the opportunity to make their entire supply chain even more environmentally friendly.
The model is one of an extensive range of alternative fuel vehicles offered by Iveco, and is powered by an ultra-clean 8.7 litre Iveco Cursor 9 Natural Power engine. The Cursor 9 Natural Power reduces CO2 emissions by as much as 95 per cent compared to diesel-powered equivalents, when fuelled with compressed natural gas (CNG) or liquid natural gas (LNG), making it perfect for environmentally-minded urban operators.
Delivering 400 hp and 1,700 Nm torque – equal to its diesel equivalent, and offering 17 per cent more power than its best competitor – the Cursor 9 Natural Power engine also features a "silent mode 72 dB(A)" function, which cuts engine noise for night-time delivery runs in city streets.
The large capacity of the New Stralis NP's fuel tanks lengthens the range of the LNG-only version to a massive 1,500 km, which it achieves while offering the same payload capacity as its diesel equivalent. As a result, the New Stralis NP is ideal for long-distance missions, whilst also reducing the need for regular fill-ups when operating both regionally and in cities.
Martin Flach, Iveco Product Director, says: "Iveco is using the occasion of Freight in the City to set out the potential for natural gas as a genuine alternative to diesel. We believe it presents major benefits, including ultra-low emissions, quieter operation and reduced fuel costs, which are around one-third lower.
"This gives natural gas the widest range of opportunities to replace diesel in the commercial vehicle market, and means it's no longer a fuel of tomorrow – it's a fuel of today."
Commenting on the existing take-up of natural gas vehicles, Flach adds: "Some of the most forward-thinking local authorities and urban distribution fleets have been harnessing the power of natural gas for several years now, but with the launch of New Stralis NP, Iveco is adding the possibility of long-haul, environmentally-friendly transportation."
Iveco has extensive experience in the commercial vehicle Natural Power market, making it the perfect partner for sustainable transport. The company has delivered more than 15,000 gas-powered vehicles into service already – comprising vans, trucks and buses.
Reducing TCO
The New Stralis NP is the first natural gas-powered truck to feature a 12-speed Eurotronic automated gearbox, which guarantees lower fuel consumption and greater driving comfort across all mission types, from long-distance to urban.
Just one of many improvements introduced in the New Stralis NP, the Eurotronic gearbox contributes to a 3 per cent reduction in Total Cost of Ownership (TCO) compared to the previous model, aided by the significant reduction in fuel costs versus diesel.
Meanwhile, the New Stralis NP's simple after-treatment system uses no AdBlue, no particulate filter and no SCR or EGR.
Comfort and safety
In addition to the TCO-reducing features included in Iveco's diesel Stralis models, the New Stralis NP also offers outstanding driving comfort and safety thanks to an integrated hydraulic retarder, hill holder function and Adaptive Cruise Control (ACC) as standard.
The New Stralis NP also features Iveco's flagship long-distance Hi-Way cab, making it the most spacious long-haul gas truck in the sector – without any trade-off in payload versus the diesel equivalent.
In June 2016 Iveco signed a deal to supply 200 New Stralis NP tractor units and 50 Stralis Natural Power CNG rigid trucks to French haulier Perrenot Group.
Once deliveries are complete, Perrenot Group will run the largest fleet of Natural Power trucks in Europe, marking an important chapter in the history of sustainable transport. The customer's decision to adopt a Natural Power fleet was key to it securing business from a major supermarket chain – with its customer keen to decarbonise its logistics and ensure quieter store deliveries.
Iveco is a brand of CNH Industrial N.V., a World leader in Capital Goods listed on the New York Stock Exchange (NYSE: CNHI) and on the Mercato Telematico Azionario of the Borsa Italiana (MI: CNHI). Iveco designs, manufactures and markets a wide range of light, medium and heavy commercial vehicles, off-road trucks, and vehicles for applications such as off-road missions.
The brand's wide range of products include the Daily, a vehicle that covers the 3 – 7 tonne vehicle weight segment, the Eurocargo from 6 – 19 tonnes, the Trakker (dedicated to off-road missions) and the Stralis, both over 16 tonnes. In addition, the Iveco Astra brand builds off-road trucks, rigid and articulated dumpers as well as special vehicles.
Iveco employs close to 21,000 individuals globally. It manages production sites in 7 countries throughout Europe, Asia, Africa, Oceania and Latin America where it produces vehicles featuring the latest advanced technologies. 4,200 sales and service outlets in over 160 countries guarantee technical support wherever an Iveco vehicle is at work.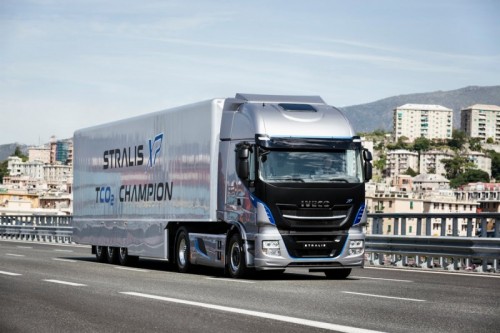 14 Nov 2016