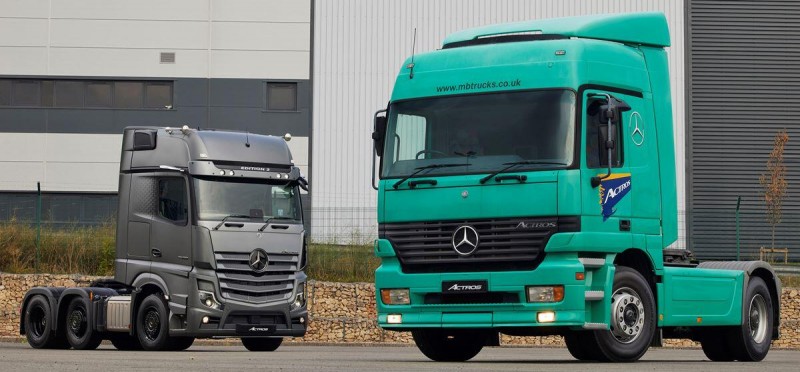 To widespread acclaim, the world's first and foremost automotive manufacturer had done it again, by producing the most sophisticated truck ever built, one that instantly became a byword for innovation. A quarter of a century and five model generations later, this remarkable vehicle continues to set the standards to which others aspire.
The original Actros employed a network of Telligent on-board systems to monitor and control the all-new V6 and V8 engines, transmission and suspension, as well as the world's first standard-fit braking system with discs all round. There were new, more aerodynamic cabs too, including a flat-floored MegaSpace version.
All of which translated into dramatically improved fuel-efficiency, increased safety – stopping distances were slashed by 25%! – and an unprecedented advance in service intervals, which were now up to between 100,000 and 120,000 km.
"The Actros takes truck technology into the 21st Century," declared George Bennett, the UK's representative on the jury that named the newcomer International Truck of the Year 1997. The Actros would go on to win the industry's most coveted accolade on a further four occasions, most recently in 2020.
The last 25 years have confirmed that Mercedes-Benz was wise to be so radical and courageous in tearing up the truck rule book and starting afresh with a clean sheet of paper. The new truck was a sales success from the outset, while competitors have jostled to develop their own versions of technology first deployed in the Actros. Imitation, of course, being the most sincere form of flattery.
It was ever thus for Mercedes-Benz, a company with an unrivalled track record for leading where others have followed. And so it remains to this day. Together with its Arocs stablemate, the fifth-generation Actros range that reached UK roads in 2019 incorporated no fewer than 60 innovations. MirrorCam replaced conventional mirrors, greatly improving visibility and contributing to fuel economy, while Active Drive Assist has made partially automated driving – braking, accelerating, and steering – a reality.
Drivers of all ages have been 'wowed' by the state-of-the-art Multimedia Cockpit, while the latest Active Brake Assist 5 emergency braking, fuel-saving Predictive Powertrain Control, and Uptime maintenance systems all make major contributions towards Mercedes-Benz Trucks' RoadEfficiency goals of Greater safety, Low total costs and Maximised use.
"We are immensely proud to be celebrating the 25th anniversary of the Actros," commented Katie Purcell, Head of Marketing for Mercedes-Benz Trucks UK. "Few, if any, trucks generate such loyalty and passion among customers, plenty of whom have been running Actros through all five model generations. We love hearing and sharing their positive stories about our flagship product."
Discover More About The Mercedes-Benz Actros 25 Year History at https://bit.ly/25-Years-Actros
------------------------------------------------------------------------------------------------------------------------------------------------------
Click the following link to find Ex Contract Mercedes Benz Trucks For Sale
All Trucks are Ex-Contract UK Vehicles
Full Service History
Serviced and Inspected prior to Export
All Vehicles can be downrated to
Euro 3 if required
For more information on these vehicles
Please E-mail Tony / Graham
stpuk@swedishtruckparts.co.uk
25 Nov 2021