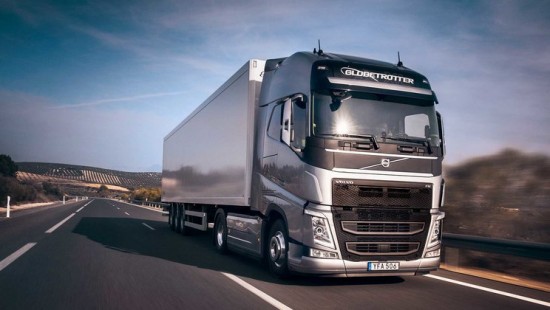 In order to provide leading fuel efficiency to its customers, Volvo Trucks is now introducing the Volvo FH with I-Save option. By combining the new D13TC Euro VI Step D engine with turbo-compounding and updated fuel-efficiency features, this new solution could cut fuel costs by up to 7% in long-haul operations – with enhanced drivability.
Consumer demand for goods is growing across Europe, with trucks covering increasingly longer distances. At the same time, transport operators are facing rising diesel prices, putting pressure on profitability.
"Volvo FH with I-Save is our answer to this challenge. It is a complete solution that combines our latest technology to substantially improve fuel consumption in long-haul operations without compromising drivability," says Roger Alm, the new President of Volvo Trucks.
At the core of the Volvo FH with I-Save is the new, state-of-the-art D13TC Turbo-compound engine – Volvo Trucks' most fuel-efficient long-haul engine to date. It now features pistons with a patented wave-shaped interior that improves combustion and increases efficiency by guiding heat and energy to the centre of each cylinder. Excess energy in the exhaust gases are recovered to power the fly-wheel via an additional turbine in the exhaust flow, known as the Turbo-compound unit.
The D13TC engine produces up to an additional 300 Nm extra torque, which means less acceleration and fuel is needed to keep a steady speed in highway traffic, making it the ideal solution for long-haul customers typically exceeding 160,000 km per annum.
Other features of I-Save include a new generation of fuel-efficient rear axles, with a choice of faster rear axle ratios matched to the engine's torque characteristics. The new 'Long Haul fuel package' with an updated map-based I-See system - Volvo Trucks' predictive cruise control system - that analyses and adapts to gradients ahead and includes gear-shifting software optimised for long-haul applications. The combined efficiency gains of I-Save can result in fuel savings of up to 7% compared to a D13 Euro VI Step D engine without I-Save engine*.
"We have tailored every aspect of I-Save to suit long-haul operators, especially those that typically drive more than 160,000 km per year," says Mats Franzén, Powertrain Strategy Director at Volvo Trucks. "The longer they drive, the more they can potentially save. It is a powerful engine which delivers a highly fuel-efficient and smooth driving experience."
Volvo FH with I-Save will be available to order from March 11th, 2019.
09 Apr 2019